This article copied with permission from Jazzuality | content source: Jazzuality | Original text translated from bahasa Indonesia from an article by Komunitas Kreatif Bali | disclaimer
Album: See You Soon
Year : 2008
Label : Universal Music Indonesia
The best Audio-Visual Present by Balawan
In Indonesian guitar world, everybody knows this native Balinese guitar hero. His reputation doesn't stop only in his own country but also spread successfully overseas. Jazz lovers in Europe, especially those who are guitar oriented, must have been stunned by the amazing talent of I Wayan Balawan when he performed at many venues around Europe. Named some events like "East Meet West Gitarren Festival Edekoben" (Germany) or "Hell Blues Festival" in Norway.
Now, after the last released album "Magic Fingers" back in three years ago, Balawan is back with his brand new album, "See You Soon". This is another album that show his amazing skills.A very special album of course. Balawan now brought a new concept, an interesting one. This time, not only he shows his tapping technique which is known as "eight finger touch style" again like before, Balawan also serves the music concept that can be enjoyed by many. There is music and lyrics. He minimizes the ethnic concept and this time he's focusing in the jazz and rock composition. He even dare to challange himself this time by entering the pop segment, with a song "Asal Kau Mau" written by Dewiq.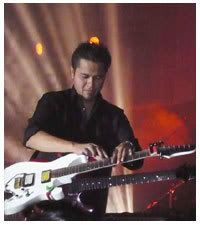 Compares to the last album, Balawan said this time his concept would fit better to Indonesian listeners. Because there will be many songs with lyrics, plus he has also cut some guitar effects. All pointed to the more "natural" formatting. "I used to play around with synthesizer effects, but now you will hear the pure guitar sound. I even play acoustic guitar this time, because I think people hasn't heard me playing the acoustic." he explained. You can listen to his acoustic style in a song called: "I Don't Want To Eat Alone Anymore".
Starting from the concept that minimize the ethnical influence, he decided not to make the album with Batuan Ethnic, the group that has been with him all these times. In exchange, Balawan brought 23 quality session players for the album. Among those, you'll have three best bassist of Indonesia today, Indro Hardjodikoro, Bintang Indrianto and Arya Setiadi. "I need players who can make the song nicer. And all of them are Indonesian bass divas" he assured.
DVD Lesson
As great as Balawan is, it wouldn't be perfect if we only listen in audio format without watching his acrobatic play with guitar. Yes, there is a surprise. This Universal Music indonesia released album goes hand in hand with a guitar lesson DVD by Balawan. "So with cheap enough price, the buyers will get both audio and video version altogether," said Balawan. In the video, Balawan will show how he play "Try To Find You" and "Magic Reong Jam", two of the songs included in "See You Soon" album. For Balawan, this DVD means a lot. It's one of his biggest dream. Balawan has been wanting to share what exactly called "eight finger touch style" to all his fans and to many music lovers. "As far as I remember, I was the one who brought this style for the first time to Indonesia, and popularized it. I always want them know the tapping technique I play clearly. It's like stressing out a point, but it 's really important to me." he said.
Balawan was born in Bali, 9 September 1973. He started to learn guitar as early as 8 years old and formed a band 6 years later. Since he was 10 years old, he already could fast rock touch a la Yngwie Malmsteen. In 1993, Balawan went to Sydney (Australia) and got scholarship to learned jazz deeper and better at Australian Institute Of Music for two years. Five years after, he went back to Bali and formed Batuan Ethnic Fusion that combined Balinese gamelan with jazz. Since then, Balawan continued to improve his "8 Fingers Tapping" technique, and also popularized it in Indonesia. With his technique skill, Balawan got many achivements and performed in many important music events all around the world. He was one of the favorite performer of "Java Jazz Festival" and "JakJazz Festival" in Jakarta, also "East Meet West Gitarren Festival Edekoben" (Germany) and "Hell Blues Festival" in Norway. Get the album on the nearest music store near you.
'See You Soon' album reviews from other sites: